Fashion Icon,
Liz Claiborne,
Passes on to Fashion Heaven
At the top of the fashion world, Liz Claiborne became a celebrity, traveling around the country to department stores to meet her fans. Once, while flying from a fashion show luncheon to a dinner show in another city, her plane was delayed. Ms. Claiborne assumed she had missed the appearance. After landing, however, she discovered that the audience was still waiting for her.
"I changed in the hotel room in about two seconds flat and went out, and when I walked in that room — the applause," she told Women's Wear Daily in 2000. "It was the first time I realized it was like being a star for a short while. It was a great feeling, but it was a feeling also of responsibility, when you have women reacting that way and depending on you."
Ms. Claiborne, with her close-cropped black hair and oversize glasses, was an imposing boss to her employees and an aloof chief executive to financial analysts, presiding over design meetings with a delicate glass bell she rang to maintain order. She was a critic of the fashion industry and spoke out about a lack of opportunities for women to achieve equality in other fields.
When she was 19, Ms. Claiborne, who had studied painting in Brussels and Nice but never completed high school, won a design contest advertised in Harper's Bazaar magazine and was inspired to pursue a career in fashion. Her parents did not approve. According to Irene Daria's book "The Fashion Cycle" (Simon & Schuster, 1990), the family was driving through Manhattan two years later when Ms. Claiborne declared, "I'm staying." Her father let her out of the car, handed her $50 and said, "Good luck."
"It wasn't as bad as it sounds," Ms. Claiborne recalled at a meeting with Liz Claiborne's current designers last year. She stayed with her grandmother for a month while looking for a job. Tina Leser eventually hired her to work at her dress house as a sketcher and fit model.

Ms. Claiborne went on to work for a few other dress companies and later the Rhea Manufacturing Company, where she met her second husband, Mr. Ortenberg, in 1954. Although they were both married at the time — she to Ben Schultz, a photography agent — they began an affair and left the company because of it, Mr. Ortenberg said.
"The two of us were accidents waiting to happen," Mr. Ortenberg said. "I won her by reading aloud 'The Little Prince.' "
They divorced their spouses and were married in 1957. After retiring, she and Mr. Ortenberg separated themselves from fashion almost entirely, setting off on travels to remote corners of the world in what could have been described as storybook adventures.
"American women are not the chicest things in the world," Ms. Claiborne said. "They want clothes that are comfortable, young and snappy." After working for 16 years with another fashion designer, she stared her own clothing line, with the assumption that she was a better judge of what women wanted to wear to work.
As a designer, Ms. Claiborne did not care to be considered a trendsetter. She placed practical concerns over the glamour of the catwalks and the prestige of designer prices. Her arrival as a fashion brand was well timed, catching the beginning of a great change in American society as women headed to the workplace in large numbers.
She created a new foundation for a modern working woman's wardrobe, which had begun, she once acknowledged irritably, as the bland reinterpretation for women of a man's navy blue suit and tie. Blouses that closed with frilly bows did not appeal to Ms. Claiborne. Her creative expressions were made of colorful tailored separates that could be mixed with other pieces to create many outfits.
As women made headway in corporate America, Ms. Claiborne expanded with office-friendly sportswear that conveyed a potent blend of intelligence, strength and femininity. It eventually transcended the workplace, becoming a lifestyle brand. One of her first designs was a velour peasant blouse; she sold 15,000 pieces in one season.
"I wanted to dress busy and active women like myself, women who dress in a rush and who weren't perfect," Ms. Claiborne said in a 1989 interview in Women's Wear Daily. "But loving clothes, I knew clothes could do a certain thing for you from a flattering point of view. And I tried to bring good taste to a mass level."
Ms. Claiborne correctly anticipated a market for affordable business-like clothes that women could wear to compete with men in professional workplaces. In her no-nonsense way, she became a role model — and her label an inspiration — to those who were looking to break through glass ceilings, as she had done.
In 1986, Liz Claiborne Inc. became the first company founded by a woman to be ranked among the Fortune 500. And of the companies on that list, hers was one of only a handful with women as chief executives.
When Ms. Claiborne retired from active management of the company, in 1990, it was the largest women's apparel maker in the country, with $1.4 billion in sales. It remains among the largest today, with $5 billion in sales in 2006 and a portfolio of brands that now includes Dana Buchman, Juicy Couture, Ellen Tracy and Lucky Brand Jeans.
But the company, squeezed by moderate-priced department store brands, has been hard pressed in recent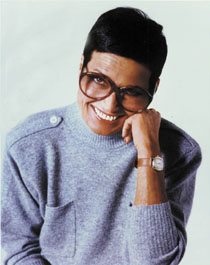 months to maintain the sales of its traditional labels like Liz Claiborne; it reported a 65 percent decline in first-quarter earnings this year, and the outlook for the rest of 2007 is weak.
Last week, the company announced that it had reorganized its brands into wholesale and retail divisions while eliminating several executive positions.
Her strategy was to provide an alternative to the expensive options facing women. Her designs, she said, were "businesslike, but not too pinstripe, more casual, more imaginative, less uptight." I became a fan of Ms. Claiborne when she designed clothing the the full-figured women, especially designer jeans. It really saddens me when I hear of the Urban Legend that she does not design clothes for African-American women because they have "large rear ends." That is so ridiculous. Ms. Claiborne will be sadly missed in the fashion industry. She filled a void that was very important in the fashion industry. Thank you very much, Liz.
Best3Concepts
See all of your favorites Liz Claiborne outfits here.